Jesús León – Bel Canto
Bellini, Donizetti and Verdi
Royal Liverpool Philharmonic Orchestra / Toby Purser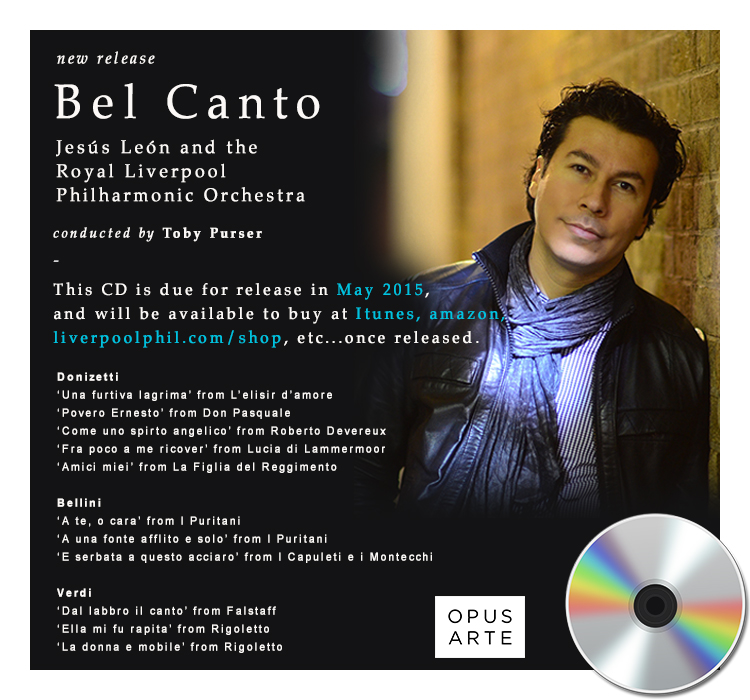 Donizetti: L'elisir d'amore – "Una furtiva lagrima"
Bellini: I Puritani – "A una fonte afflito e solo"
Donizetti: Don Pasquale – "Povero Ernesto"
Verdi: Rigoletto – "Ella mi fu rapita"
Verdi: Rigoletto – "La donna è mobile"
Donizetti: Roberto Devereux – "Come un spirito angelico"
Bellini: I Puritani – "A te, o cara
Bellini: Capuleti e Montecchi – "E serbata"
Donizetti: Lucia di Lammermoor – "Fra poco a me ricovero"
Verdi: Falstaff – "Dal labbro il canto"
Donizetti: Figlia di Reggimento – "A miei amici"
Acclaimed for his 'extraordinary top notes' (Guardian), Mexican Jesús León is one of today's most exciting lyric tenors. Here he presents a selection of his favourite bel canto arias, uniting three giants of 19th-century Italian opera in a dramatic and expressive programme that reveals his sweetness, lightness and flexibility of voice.
Debut recording by acclaimed Mexican tenor Jesús León.
Has performed with Scottish Opera, Glyndebourne Touring Opera, Landestheater Bregenz, Radialsystem Theater, Berlin & Teatro Regio di Parma.
''…his light tenor was mellifluous in its phrasing and even in tone.' (Seen & Heard International) {Don Giovanni/Garsington Opera}
''"…a voice with a homogeneous color and secure high tessitura…' (Der Opernfreund) {Maria di Rohan/Radialsystem Theater, Berlin}
Opus Arte OACD9035D